Open space that can be happily used for various events.
16 halls in all courses. Natural turf ground golf course
The rule is simple and there is no limit for the number of people.
Hours
From 11:00 to the sunset [It closed in case of bad weather.]
Acceptance time
Summer [Aplril to October] 11:00 to 17:00
Winter [November to March] 11:00 to 16:00
General charge
Course rental 300yen
The first round/ Eight halls X2
Club / hall : free rental
Course Layout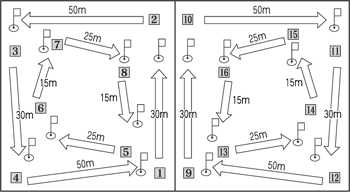 This course layout is one example.
Course use time
Summer [October from April] 11:00 to 17:00
Winter [March from November] 11:00 to 16:00